---
Paul & Sue Hazelden
- Sue's Pink Pictures -
---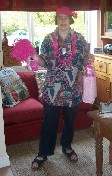 Rhi Day sent us these pictures, and we thought you might like to see them. They were taken at work before Sue went into hospital. Sue wishes to point out that most of the pink items had just been given to her by friends [Ed: some friends!] at work.

If you click on a picture, you should see the full size version in a new browser window.
---
Go to the top of this page
Home
|
Personal
|
Ministry
|
Contact
|
Writings
|
Links
Display this page in a printer-friendly format
---
This page last updated: 1 January 1970
Copyright © 2005 Paul Hazelden.
---
Do you have any comments or feedback? Either
send me a message
or
write in the guest book
. You are welcome to print this page for your personal use, or create a link to it. If you would like to use any part of this page in any other way, please read the
standard terms
and then contact me.
---
Page counter at 08:55 on 4 July 2022